---
Ray Keith - Prophecy [Ltd Edition CD]
DREADUK42CD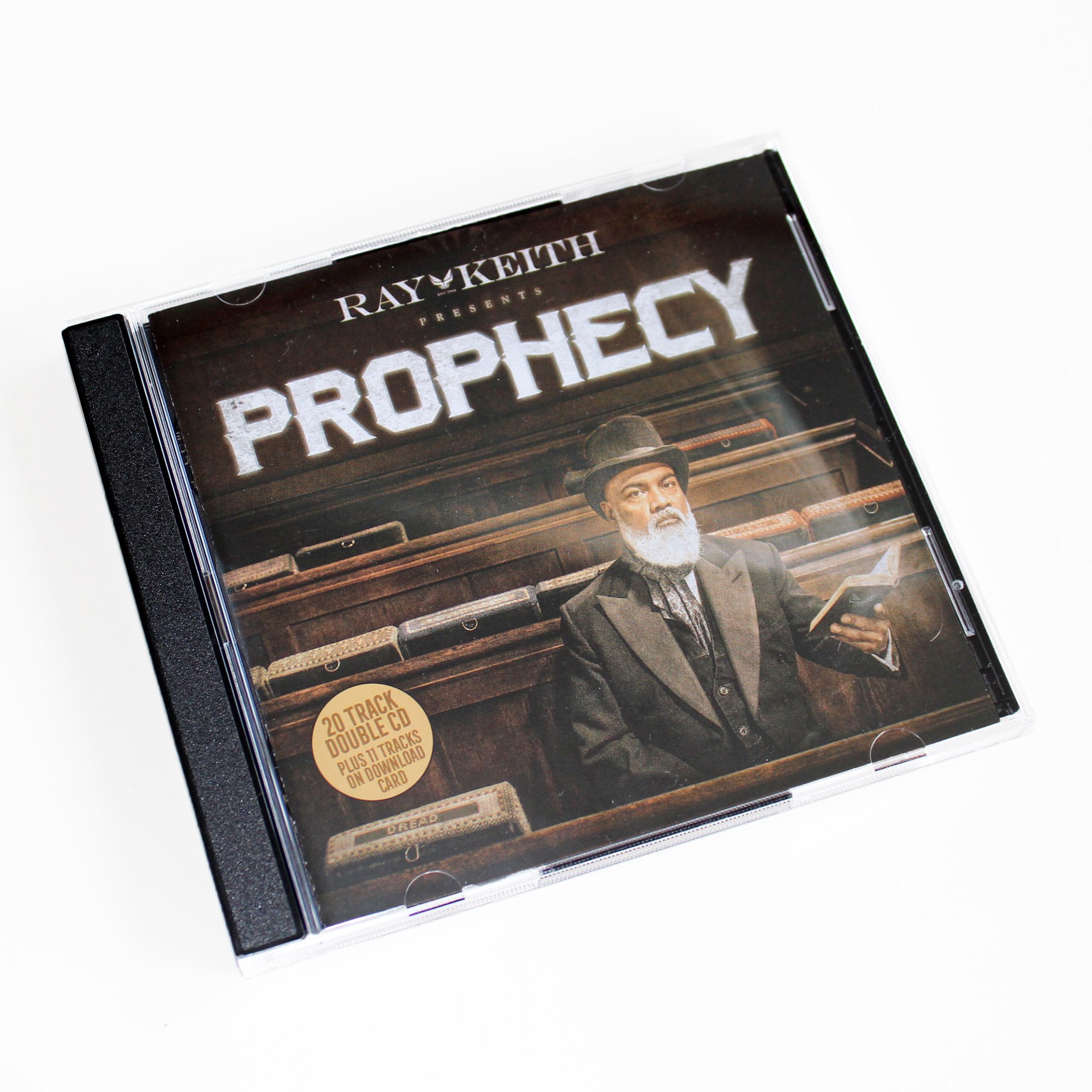 | | | |
| --- | --- | --- |
| MP3 release | £9.00 | |
| FLAC release | £10.00 | |
| WAV release | £11.00 | |
---
CD tracklist
CD1 1. Ray Keith - You're My Angel [Acoustic Mix]
CD1 2. Ray Keith - Original Gangster
CD1 3. Ray Keith - Good Love
CD1 4. Ray Keith - Love You
CD1 5. Ray Keith - Def Con 19
CD1 6. Ray Keith - Master Assassin
CD1 7. Reprise & The House Crew Feat Ray Keith - You & I [Audio Club Mix]
CD1 8. Ray Keith - Fight My Style
CD1 9. Ray Keith - Black Rose
CD1 10. Ray Keith Feat. DRS - Dark Forces
CD2 1. Ray Keith - King Of Kings
CD2 2. Ray Keith - I'm A Souljah
CD2 3. Ray Keith - Drop Top
CD2 4. Ray Keith - Batman
CD2 5. Reprise & Ray Keith - You Never Loved Me
CD2 6. Ray Keith - Darth Dread
CD2 7. Ray Keith - Cybertron Dred
CD2 8. Ray Keith - Cylon Dread
CD2 10. Reprise & Ray Keith - You Make Me Cry feat. Deploy [Vocal Club Mix]
CD3 2. Soundman - Open feat. Floyd Dice & RK [Audio Mix]
CD3 3. Ray Keith - You're Too Bad
CD3 4. Ray Keith - You're Too Good To Be True
CD3 5. Reprise & Ray Keith - She's Gone feat. Nathan Thomas
CD3 6. Ray Keith - Jungle Dub
CD3 7. Ray Keith - I Love 94
CD3 8. Ray Keith - Solid State
CD3 9. Ray Keith - The Storm
CD3 10. Reprise & Ray Keith - Arabian Nights
CD3 11. Ray Keith - This Is My Sound [Bonus Track]
Limited edition promo CD edition of the brand new album from Ray Keith 'Prophecy'.
CD is a 2 Disc set - with all of the 3rd CD content available as a Digital Download.
Veteran producer Ray Keith presents The Prophecy, celebrating 25 Years of Dread. A dual CD jam packed full of 30 relentless tracks, plus a Bonus track! Full of Ray's signature Dread vibes, the album features 'You're My Angel' with Ray himself smashing it on the vocals. 'She's Gone' featuring Nathan Thomas has a 'Justin Timberlake' vibe to it and 'Inside My Head' brings the nostalgia. This album really is a treat for the ears. Big up the Jungle OG!
---